I've always been a news junkie, especially since I've been using the Internet. I like to stay informed and I love to read long and in-depth articles that brilliant journalists have often spent months putting together (that's why I support both The Guardian and The New York Times with digital subscriptions). The media is constantly under attack today, and some of it can be warranted. But for every clickbait bit of nonsense, there are still journalists out there producing some incredible work.
During the coronavirus pandemic, there's unsurprisingly been an explosion of news about it. It soon began to feel like that's all the media have been talking about for the last couple of months. It can quickly become depressing reading about infection and death statistics, as well as how it's destroying people's livelihoods and ripping the economy apart. It's a good idea to take a break from all this, and I've tried to cut down by intentionally reading other non-related articles or just deciding not to read the news for a little while at all. Although, in my case, this never lasts for long. But if you all keeping up with all the news, let's try to look at the good things that are coming out of the pandemic instead.
Here I'm going to post all the good things I'm reading about when it comes to coronavirus. Such as stories of people pulling together and helping each other in these worrying times. I'll update this post as I find new things, and feel free to mention anything I may have missed in the comments.
19/05/2020
Teaching Children The Importance Of Staying Home During The COVID-19 Pandemic
An ex-work colleague of mine has spent time during the pandemic (and whilst pregnant!) designing a children's book that helps explain to children why it's important they stay at home during the COVID-19 pandemic. The Prince and The Invisible Enemy by Jennifer Chesworth tells the story of a Prince who is used to battling monsters but now has to battle an invisible virus and protect his people from becoming sick.
I think this is an excellent way to help teach children about a topic that can be complicated to get across to them, especially when they're likely finding it strange why they suddenly can't go to school or play with their friends. I've been mulling over whether to start writing stories to tell my own child when he's older and this has definitely spurred me on!
This eBook also marks the first book from Jennifer's Be Happy Books, which will continue to explore mental health and life events important to children. You can buy it over on Amazon.
08/05/2020
The World From My Window
A new project hopes to collect together thousands of stories around the world about peoples personal experiences of lockdown. With a third of the planet in lockdown, the project wants to emphasise how lockdown is experienced differently the world over. It begins with the story of Yuri Gagarin, the first man in space, who was isolated from the entirety of humanity as he orbited the Earth. Each story will be a 'letter to Yuri' in 300 words or less. Visit The World From My Window website to find out more and submit your own story. You can also read the stories that have been submitted so far.
Banksy At Southampton General Hospital
Banksy has taken a break from creating art in his bathroom and has created this brilliant piece of art for Southampton General Hospital. The artwork shows a little boy ignoring his superhero Spider-man and Batman action figures in favour of a nurse toy. The only bit of colour in the painting is a red cross emblem on the nurses uniform.
Paula Head, CEO of the University Hospital Southampton NHS Foundation Trust said:
"Our hospital family has been directly impacted with the tragic loss of much loved and respected members of staff and friends. The fact that Banksy has chosen us to recognise the outstanding contribution everyone in and with the NHS is making, in unprecedented times, is a huge honour."

Via BBC
06/05/2020
Virtual Walks & Connecting With Nature
I never knew how much I'd miss being able to take a walk out in nature; the streets around my home are getting mighty boring. While we can't take long walks in the countryside, we can still get a taste with a virtual walk from our home. Keukenhof Gardens in the Netherlands have been uploading videos of 5K 360 degree walks around their beautiful tulip gardens. You can watch them all over on the Gardens YouTube channel.
Watching these got me curious about other virtual tours. In my searching, I discovered that there's a whole website dedicated to them at airpano.com. Google has also put together an excellent virtual tour called 'The Hidden Worlds of the National Parks' that lets you take a virtual tour through the USA's gorgeous National Parks (these are well worth taking some time out to do. Google knows how to create great virtual experiences). Things like these remind of the amazing things you can do with the Internet, and I need to spend more time delving into stuff like this over wasting too much time on social media.
If, like me, you love your gaming, then why not take a virtual walk around a video game? The Guardian has put together this short list of games that have some gorgeous landscapes to wander around. I'll add Skyrim, Horizon: Zero Dawn and Red Dead Redemption 2 if you want to see some impressive virtual landscapes.
Finally, I enjoyed reading this article on how people are still managing to connect with nature, even when stuck indoors.
Ramadan Walking Challenge
We all know the incredible story of 100-year-old Captain Tom Moore's walking challenge, which raised millions for the NHS. Now another 100-year-old is also doing a sponsored walk, but he's upping the ante. Dabirul Islam Choudhury is also doing 100 laps of his community garden, but he's doing so while fasting for Ramadan. The aim was to raise £1,000 for the Ramadan Family Commitment Covid-19 crisis initiative, but so far he's raised over £60,000. You can donate here (Via The Guardian).
05/05/2020
Mapping Your Shrunken World
One of the good things about being stuck at home is that you suddenly have more time to do things that a busy life normally puts on the backburner. Of course, having kids and still trying to do your daily job eats away at both this time and your energy, so I'm not one of those people who say you shouldn't be wasting this time and using it to learn a language etc. But one of the things I'm now trying to do is be a little more creative, and it looks like others are doing the same too.
Over at CityLab, they invited readers to 'draw maps of their worlds in the time of coronavirus'. Over 300 people have responded so far, creating their unique interpretation of how their world has become much smaller as social distancing and stay-at-home orders remain in force around the planet.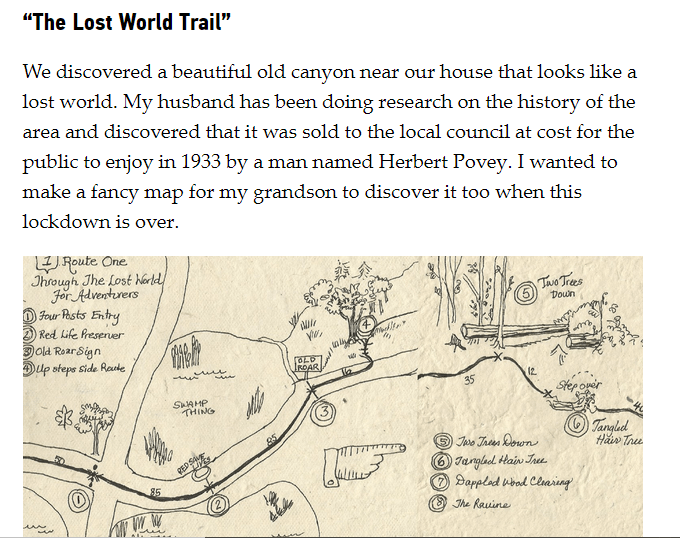 There is some excellent artwork on display here, and it more than scratches that itch I've always had when it comes to pouring over detailed maps. I don't have the confidence to submit my scribbles, but if you'd like to submit a map yourself then you can do so here.
Face Mask DIY
Over in Ireland, two schoolboys have set up a small production line for making face masks to supply Tallaght University Hospital. The boys, aged 14 and 11, are using a 3D printer to do the job. We seem to be hearing about PPE (Personal Protective Equipment) shortages every week. So, while this effort may be on a small scale, it's no doubt making a big difference to those who desperately require face masks.
Camping Kids
Treetops Hospice Care, in Derbyshire, UK, estimated that the coronavirus lockdown will cost £1.4m in lost fundraising. A teenage boy and his seven-year-old sister have done their part to recoup some of this loss by raising £2,200. This will help the hospice provide three more weeks of overnight nursing care for patients in the community. They accomplished this by sleeping in a tent in their garden for the entire month of April. Given the unpredictable nature of British weather, one night can be tough enough, so well done to these kids for this great achievement!
Cheer Up Some Eels!
There are plenty of stories of how humans are coping during the pandemic, but what about animals? In Japan, garden eels in an aquarium have sadly started forgetting about humans. The eels have become used to hundreds of faces staring at them every day, but they now dive under the sand whenever a keeper comes to check on them. To combat this, the keepers have come up with a technological solution in the form of five tablets that will face towards a tank for a "face-showing festival". You can video call in to watch the eels, so they'll be able to see your friendly human face. More details here (Via BBC).
Cornavirus & The Environment
While lockdowns and social distancing guidelines have worked to massively reduce the death rate across countries, it's also had the extra benefit of helping the environment and reducing deaths caused by environmental issues. A new study has revealed that there have been 11,000 fewer deaths from pollution in the UK. The reduction in deaths is thanks to improvements in air quality due to less traffic on the roads and fewer industrial emissions. There have also been 1.3m fewer days of work absence, 6,000 fewer children developing asthma, 1,900 avoided emergency room visits and 600 fewer preterm births. It's showing that a reduction in damaging human activity is already having environmental benefits. This good news will hopefully help people realise that fighting climate change is one of the most important issues facing us today.